Welcome to the Devil May Cry Wiki!
---
The Devil May Cry Wiki is a comprehensive database that anyone can contribute to. This wiki covers the whole Devil May Cry franchise created by Capcom.
Notes:
With the release of Devil May Cry 5, this wiki now contains heavy spoilers, careful reading is advised.
No fan-made images are allowed. For Devil May Cry fanfiction and fanart, visit our sister site at the Devil May Cry Fanon Wiki.
Do not add any leaked or unofficially released content to articles.
---
Featured article
Sparda and its unawakened form, the Force Edge, is the beloved demon-forged sword wielded by the Dark Knight Sparda himself, and magically imbued with his power. Throughout the series, the sword is recognized as a source of god-like power, and in both Devil May Cry 3 and Devil May Cry 4, it was the main objective of the villains.
DMC Wiki Blog
Create blog post
Lastest posts
RIADI SAMIR 2 MARS 20300 CASA MAROC.

DEVIL MY CRAY 2.

Read more >

Hey guys, well, i've been having trouble in DMC 5 beating Goliath, i was at a internet cafe and i had to go, but i was stuck and i couldn't figure out how to beat him, may you help me? Thanks.

Read more >

I'm sure that we can all agree that DMC 5 is an excellent game overall, thus we are on this wiki having conversations and discussing it so often (as well as the other games in the series of course) since its pretty new still.

One thing that I love ab…

Read more >
See more >
Random quote
"
He plucks the threads that make us dance, finger and toe. We surrender, in joy, to the lowest of the foul and rank. We submerge through darkness, rancid filth. Hour by hour we move downward, ever closer to hell. In a slow, steady, gait. Now, let the world resonate. Sloth, Gluttony, Greed, Envy, Lust, Wrath, and Pride. A bell of chaos that tolls human desires. After two thousand long years, the one sealed gate to the demonic world will open. Destruction! Carnage and Despair! Let your instincts drive you. Entrap this world in fear! As its very name Temen-ni-gru strikes terror into the hearts of mankind. And I, will become the ultimate ruler of this wasteland, engulfed with pandemonium. The demonic power that Sparda once imprisoned... will be mine!
"
Community poll
Which was your favorite Devil May Cry?
Previous Poll Question: Classic Dante vs. Chuck Norris?
Winning Answer: Dante
Helping out
To create a new article, just enter the title below.
Make sure your article conforms to the Devil May Cry Wiki's Manual of Style before publishing, otherwise it may be deleted.
If you are new to wikis, check out Help:Contents.
Statistics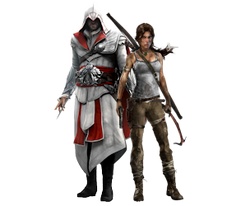 Community content is available under
CC-BY-SA
unless otherwise noted.