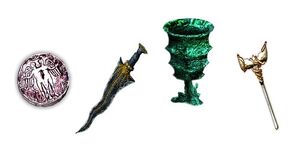 The Arcana are the four sacred relics which were used by the Protectors of Vie de Marli to seal Argosax in the past. They play a large role in the storyline of Devil May Cry 2.
Story
[
]
Arius tries to obtain the Arcana in order to release Argosax, take his power, and become a god.[1][2] The Arcana are four holy relics used to seal Argosax, and by uniting them at the solar eclipse, a gate to the Demon World will open.[3]
Gallery
[
]
Background
[
]
The Arcanas make reference to the 78-card Tarot deck used for occult purposes. The individual cards of the tarot deck are known as "Arcana". The Coin, Sword, Cup, and Staff are the four suits of the Minor Arcana, which comprise 56 cards of the total deck. The Major Arcana are the remaining 22 trump cards that have no suits associated with them, and include the Magician, which represents Arius.
References
[
]