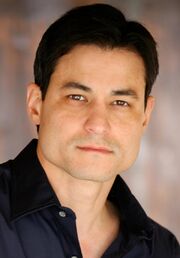 Daniel Southworth, also known as Dan Southworth, is an American actor and stuntman who was born on September 2, 1974.[1]
Role in the Devil May Cry seriesEdit
Dan Southworth provided the voice and motion capture for Vergil in Devil May Cry 3: Dante's Awakening, Devil May Cry 4: Special Edition and Devil May Cry 5. He was also the motion capture subject for Credo in Devil May Cry 4, as well as J.D. Morrison, Griffon, and King Cerberus and both voice actor and motion capture subject for Urizen in Devil May Cry 5. Dan again lent his vocal talents to Vergil in both Ultimate Marvel vs. Capcom 3 and Viewtiful Joe: Red Hot Rumble.[1]
Other Roles
Edit
Dan Southworth is best known as the Quantum Ranger, Eric Myers, from Power Rangers Time Force. Eric shares many traits with Vergil, primarily his lust for power and his need to gain it, even at the cost of his fellow Rangers. He also starred in a fan film called "Street Fighter: The Devil Within" as Ryu, along with Reuben Langdon reprising his role as Ken Masters. He was also involved with the production and stunt work of Resident Evil 6, along with "Time Force" co-star Jason Faunt, who did motion capture from Leon S. Kennedy. This is their first collaboration since the 10th anniversary episode of Power Rangers, titled "Forever Red".
References
Edit
Community content is available under
CC-BY-SA
unless otherwise noted.