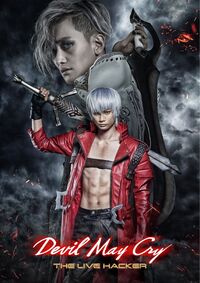 Devil May Cry: The Live Hacker is a musical stage play with a original storyline performed on the Zepp DiverCity, Tokyo, between March 1st - 10th, 2019. It ended two days after Devil May Cry 5 was released.
Even though the recurring characters' appearance is based on those of DMC3, the story is set after the events of the first Devil May Cry.[1]
Ticket price ranged from 7800 yen ($68.86 US) to 9800 yen ($86.51 US), tax included. There were 13 performances total.[2] The play will be released on DVD at the end of August, 2019.[3]
Plot
[
]
Got to clean up the mess father left behind.


This section of the article is a stub. You can help by expanding it.
Staff
[
]
Production
[
]
Taken from e+.[4]
Screenplay, director, staging: Jun Yoriko
Original work: Capcom (Devil May Cry series)
Original work supervising director: Hiroyuki Kobayashi (Capcom), Hideaki Itsuno (Capcom)
Sponsorship: Devil May Cry - The Live Hacker Production Committee
Production: Pony Canyon, Ace Crew Entertainment
Cast
[
]
Further notes
[
]
Gallery
[
]
Sources
[
]
External links
[
]