I should have been the one to fill your dark soul with liiiiiiiiiiight!
This article is a stub and is missing information. You can help the Devil May Cry wiki by expanding it.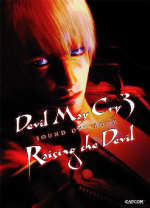 The Devil May Cry 3 Sound DVD Book was released in Japan on February 28, 2006. It focuses on battle music and action sequences from the third game. Composition credit is given to Tetsuya Shibata and Kento Hasegawa.[1]
Track listing
Disc one (66:20)

| # | Title | Length |
| --- | --- | --- |
| 1. | "Raising the Devil (Dante's Office 7 Hells Battle)" | 2:13 |
| 2. | "Roar of Anger (Cerberus Battle)" | 4:07 |
| 3. | "Out of My Way (Regular Battle 1)" | 3:58 |
| 4. | "Fire & Ice (Agni & Rudra Battle)" | 3:44 |
| 5. | "The Encounter (Vergil Battle 1)" | 2:46 |
| 6. | "Heart of Leviathan (Leviathan Battle)" | 3:07 |
| 7. | "Hot as a Bullet (Nevan Battle)" | 3:20 |
| 8. | "Gigantic Guardian (Beowulf Battle)" | 3:29 |
| 9. | "Wild-Eyed Evil (Regular Battle 2)" | 3:06 |
| 10. | "Horse Rider to Hell (Geryon Battle 1)" | 4:09 |
| 11. | "One More Game (Vergil Battle 2)" | 3:43 |
| 12. | "Vengeance (Lady Battle)" | 2:02 |
| 13. | "Her Mind Surrendered (Confiding Lady)" | 1:57 |
| 14. | "In the Shadow (Doppelganger Battle)" | 3:38 |
| 15. | "Heaven in Hell (Demon World)" | 3:44 |
| 16. | "Out of Control (Arkham Battle)" | 4:01 |
| 17. | "Blood on Blood (Vergil Battle 3)" | 3:45 |
| 18. | ""Devils Never Cry" (Staff Roll)" | 3:54 |
| 19. | "DNC (Dark Half Mix)" | 3:23 |
| 20. | "Jester Battle (Bonus Track)" | 1:09 |
| 21. | "Vergil Regular Battle (Bonus Track)" | 1:27 |
References
Edit