I should have been the one to fill your dark soul with liiiiiiiiiiight!
This article is a stub and is missing information. You can help the Devil May Cry wiki by expanding it.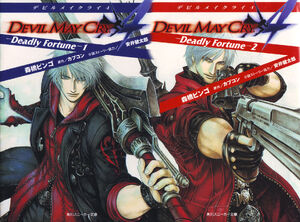 The Devil May Cry 4: Deadly Fortune is a two-volume graphic novel written by Bingo Morihashi, the scenario designer for Devil May Cry 3: Dante's Awakening and Devil May Cry 4, and his for-novel-only assistant Yasui Kentarou. The two novels were published by Capcom during 2009. It is written in Japanese and has not yet been released in any other language.
A summary of both volumes 1 and 2 can be read here.
Deviations from the game
Edit
Although Morihashi considered the novel the "complete" version of the Devil May Cry 4 story, it was written after he left Capcom and contains major deviations from the game plot. Here are some of them;
Notes and references
Edit