I should have been the one to fill your dark soul with liiiiiiiiiiight!
This article is a stub and is missing information. You can help the Devil May Cry wiki by expanding it.
This can be one of the most challenging missions since it needs a lot of patience solving most of the Laser Barrier Traps, and the boss fight with Angelo Agnus can be difficult with the little area given to you.
Walkthrough
Gran Album Bridge
You start of the mission from the Gran Album Bridge, head off to the next room and destroy the artifacts. Then continue on to the other side of the bridge, where you are introduced to a new enemy; the Alto Angelo, destroy all enemies then enter the HQ.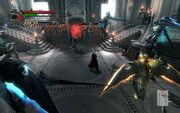 From the main hall, move towards the Strange Tree and activate the pedestal, a cutscene will then follow, and the room behind you will be filled with laser traps. Move to the room from your right.
On this next area, you can now acquire the Key of Chronus, which can be used to slow down time, defeat the enemies then use the Key on the Chrono Slicer to get past the lasers.
On the elevator area, what you need to do is to get on to the top of the room. You need to activate the nearby mechanism to access the elevators. While inside the elevators, enemies might spawn, kill them to continue access.
While on the 2nd and 3rd floors, you need to access the distant elevators by passing through various laser traps. Then when you are on the top area, get the Green Orb and prepare yourself for a boss fight.
Boss: Angelo Agnus
You need to hit Agnus with multiple sword combinations and Charged Shot from the Blue Rose to disperse his gold aura, only then he is vulnearable to Buster.
This boss displays several attacks against you, so you need to watch out for them.
Common Attacks
Hell Fire - Summons a small Hell Gate behind Agnus that launches several fire balls.
Rave Boomerang - Agnus summons two Cutlass and spins them like a boomerang towards Nero, make your timing perfect and dodge sideways to evade this attack.
Gladius Combo - Agnus summons various weapons mostly two Gladii and cuts Nero with a combo.
Summon - Agnus summons live demons which he crafted to attack you. However, this attack decreases his Vitality Gauge.