Helter Skelter is one of the Devil Breakers that Nero can equip in Devil May Cry 5.
Description
Nico creates Helter Skelter at the same time as Punch Line after Nero defeats the demon Goliath, though it is not clear if there is a direct connection between the Goliath fragment and Helter Skelter's construction as there is with Punch Line.
Helter Skelter is a tapered gold spiral with a three-pronged claw hand at the tip. When in use, it unfolds into a series of vicious curved blades mounted to a central spindle via assemblies resembling propellors.
File
Devil May Cry 5 promo site, Character - Nero[1]

Helter Skelter
The helix of sharp metal gives this Devil Breaker incredible penetrating power. Spread its blades to pulverize unlucky foes.
Nico's Weapon Report - Helter Skelter
There was this weird slide in the park near my house when I was a kid, see? That's where I got the inspiration for this design.
The simple design concentrates all the power into the tip to really drill the point home to your enemies. It has a kind of beautiful precision, don't you think?
I made sure it's able to grab stuff, but just barely...in all honesty, I kinda want to take out that function. Really streamline the thing, y'know?
Gameplay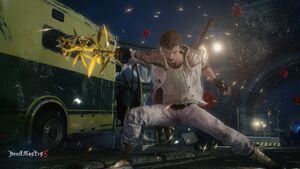 Helter Skelter is unlocked at the start of Mission 03: Flying Hunter along with Punch Line. Following this, Helter Skelters will spawn randomly in missions along with other Devil Breakers, and can be purchased in the store for 1000

.
Helter Skelter's primary attack is a piercing drill thrust which can break an enemy's guard, and since it attacks rapidly will often also parry any counter-move they make as a result of being attacked while guarding. If it does not contact an enemy, the attack will just be a small arm-thrust that does nothing. If it does hit something, however, the attack will be extended to deal multiple hits. During this time the player can repeatedly hit the Devil Breaker button to trigger up to two additional drill attacks with the blades further opened out each time, functioning like a Crazy Combo. This can also be performed in the air, and will cause Nero and the enemy to hover until the move completes.
It is largely a single-target weapon, and the large investment of time required to inflict all three hits leaves Nero vulnerable to being attacked from the sides or rear.
The Break Age move throws all of the weapon's power into flying charge move which propels Nero straight forward and then arcs up into the air, damaging all enemies around him regardless of whether or not they try to block it. It can also disregard the "super armor" state of enemies such as the Hell Antenora, hitting them as if they were in their normal state.
Movesets
| Action | Command (PS4) | Command (PC) | Command (XONE) | Description |
| --- | --- | --- | --- | --- |
| Drill Rig | With Helter Skelter equipped: Tap repeatedly | | With Helter Skelter equipped: Tap repeatedly | Spin your arm to unleash a penetrating attack that punches through guards and barriers alike. Tap/ repeatedly to increase the number of hits. |
| Drill Master | With Helter Skelter equipped: Press and hold, then release after your right arm sparks with more power. | | With Helter Skelter equipped: Press and hold, then release after your right arm sparks with more power. | Spin your arm to unleash a penetrating attack. Break through all barriers and guards with a single blow, but the arm will break after a single use. |
Monkey Business
Template:QuoteThe Monkey Business (モンキービジネス, Monkey Business?) is a model swap of the Helter Skelter, and shares its same movesets, though unique particle effects appear while it is hitting an enemy. It cannot be bought from Nico or Divinity Statues, and must be found within the Missions.
The Monkey Business can only be unlocked by redeeming a download code which comes with copies bought from Amazon.co.jp.[2] Some codes were also given out for free for random users on Xbox One.
Gallery
Helter Skelter
Monkey Business
References
Community content is available under
CC-BY-SA
unless otherwise noted.