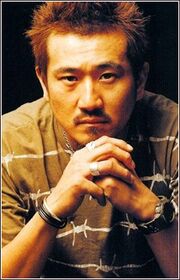 Hidenobu Kiuchi (木内 秀信, Kiuchi Hidenobu?), born February 5, 1969 in Kobe, Hyōgo Prefecture, is a Japanese voice actor.
Role in the Devil May Cry seriesEdit
Kiuchi is the Japanese voice actor for Paul in Devil May Cry: The Animated Series.
Other Roles
Edit
His well known roles include Yūshi Oshitari in The Prince of Tennis, Kenzo Tenma in Monster, Ren Honjo in Nana, Hei in Darker than Black, Shisui Uchiha in Naruto Shippuden, and Dad (Mr Yamada) in Chi's Sweet Home. He began as a stage actor when one of his seniors got him to do voice acting. He has taken lead roles such as Jose in Gunslinger Girl and Ramsbeckite Hematite in Cluster Edge.
Community content is available under
CC-BY-SA
unless otherwise noted.