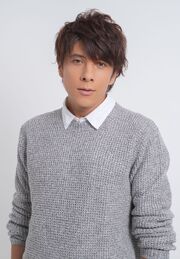 Yū Shirota Fernández (城田 優, Shirota Yū?), also known as Jun Shirota (城田 純, Shirota Jun?), is a Japanese-Spanish actor and singer who was born on December 26, 1985.
In 2009, he was named one of the most promising actors and actresses, placing 8th in a poll conducted by Oricon. He is a former member of the Watanabe Entertainment group, D-BOYS.
Role in the Devil May Cry seriesEdit
Shirota has been chosen as the role of Moul in Devil May Cry The Live Hacker.
Other Roles
Edit
He is most known for his role as Kagurazaka Makoto in the Japanese television drama live action adaption of Hana-Kimi, Kunimitsu Tezuka in the Prince of Tennis Musicals, Tuxedo Mask in the Sailor Moon Musicals and as Kei Shinjo in Rookies.
Community content is available under
CC-BY-SA
unless otherwise noted.