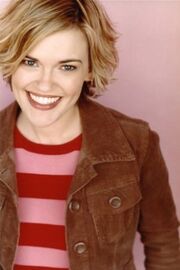 Born in 1977 in Hoisington, Kansas, Kari K. Wahlgren graduated from Kansas University with a major in theater. She is best known for her ability to generate multiple, varied female voices.[1] She has provided a multitude of voices for characters in video games, anime, and other animated movies, many of which are uncredited or attributed to a pseudonym such as Khari Wahlgren, Kari Whalgren, Kari Walgren, Kay Jenson, or Jennifer Jean.[2]
Role in the Devil May Cry seriesEdit
Although she is uncredited for her role, Kari provided the voice for Lady in Devil May Cry 3: Dante's Awakening and Devil May Cry 4.
Role in Marvel vs. Capcom 3Edit
In Marvel vs. Capcom 3: Fate of Two Worlds, Kari voices Jill Valentine, a character from Resident Evil.
Other Roles
Edit
Kari voiced Pellegri and Febronia in the English versions of the Xenogears saga, and was the only English voice actor to play the same character(s) through the entire series. She provided additional voices in Resident Evil: The Darkside Chronicles, Resident Evil: Outbreak, and Resident Evil: Degeneration of the famous Resident Evil series.
She voices Haruko Haruhara of Fooly Cooly, Robin Sena of Witch Hunter Robin, Ashelia B'nargin Dalmasca of Final Fantasy XII, Shelke Rui from Final Fantasy VII: Dirge of Cerberus, and Tigress from Kung-Fu Panda, among others.
References
Edit
Community content is available under
CC-BY-SA
unless otherwise noted.