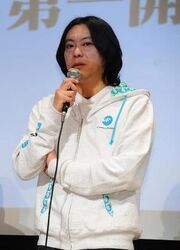 Katsuhiro Sudō (須藤 克洋, Sudō Katsuhiro?) was a producer at Capcom until he left in April of 2004, following Noritaka Funamizu to form Crafts & Meister. He is the current president of the company.
Role in the Devil May Cry seriesEdit
Sudō is credited as one of the producers for Devil May Cry 2.
Street Fighter EX (Special thanks)
Power Stone 2 (Producer)
Marvel vs. Capcom 2: New Age of Heroes (Producer)
Capcom vs. SNK: Millennium Fight 2000 (Producer)
Auto Modellista (General Producer)
One Piece Mansion (Producer)
JoJo's Bizarre Adventure: Golden Wind (Producer)
Capcom vs. SNK 2 (Producer)
The Legend of Zelda: A Link to the Past & Four Swords (Producer)
Resident Evil Outbreak (Producer)
Mobile Suit Gundam: Federation vs. Zeon (Producer)
Community content is available under
CC-BY-SA
unless otherwise noted.