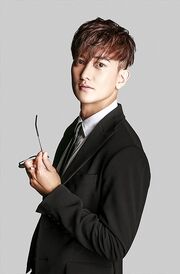 Kim Kwang-soo (Korean: 김광수, born April 22, 1987), better known as Kwangsoo (Korean: 광수) is a South Korean musician and a member of the idol group Supernova.
Role in the Devil May Cry seriesEdit
Kwangsoo has been chosen as the role of Gideon in Devil May Cry The Live Hacker.
Other Roles
Edit
He portrayed the role of Shi-hoo in 12 Signs of Love and as Lee Joon-so in Wine, Dine and Woo Me.
Community content is available under
CC-BY-SA
unless otherwise noted.