MT Framework is a game engine that was created by Capcom for the seventh generation of consoles, and was the primary engine used for most of their internally developed games such as Devil May Cry 4 and Marvel vs. Capcom 3. The acronym MT stands for multiple things, including Multi-Thread, Multi-Target, and Meta Tools.
Before the creation of MT Framework, Capcom's internal development teams were each using engines and tools of their own design, a process that was deemed inefficient. Thus, the decision to build an engine that would support the needs of all of Capcom's developers was made. At first MT Framework was being developed to be used in Dead Rising and Lost Planet: Extreme Condition only. Capcom evaluated the Unreal Engine 3 engine for adoption as their internal engine, but decided against it due to some performance limitations and difficulties of getting technical support from its American developer, Epic Games, in Japan. As such, the decision to further develop MT Framework and extend its internal use was made.
While games on PS4 and Xbox One such as Devil May Cry 4: Special Edition, Monster Hunter: World and Mega Man 11 still use MT Framework, the RE Engine and Panta Rhei are intended to be it's successors for game development during the eighth console generation.
Technology
Edit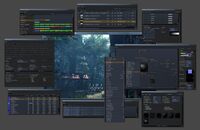 Rendering is done at 720p. 4x Multi-Sample Anti-Aliasing is used, and the game runs at 30fps, but if the engine detects that the framerate is falling below 30, it will switch to 2x Multi-Sample Anti-Aliasing or turn MSAA off entirely. The amount of textures in memory at any one time is about 160MB, with 60-80MB being used for the background.
Devil May Cry 4
Edit
As of now, 10 games were rendered into this engine, including Devil May Cry 4. However, to meet the maximum performance of the engine in Devil May Cry 4, a user must have at least DirectX 10 or higher.
The version used in the engine is MT Framework version 1.3
Community content is available under
CC-BY-SA
unless otherwise noted.