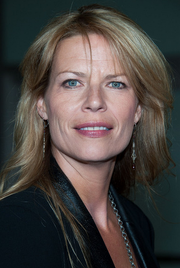 Mary Elizabeth McGlynn also known as Melissa Williamson is an American voice actress, ADR director and singer-songwriter best known for her involvement in music production in multiple games, and her extensive English-language dubbing of various anime, animated films and video games.
Role in the Devil May Cry seriesEdit
McGlynn voiced Nevan in Devil May Cry 3: Dante's Awakening, and Echidna in the English version of Devil May Cry 4, and served as English ADR director in both games.
Other Roles
Edit
Her voice roles in anime include Motoko Kusanagi from Ghost In the Shell: Stand Alone Complex, Kurenai Yuhi, Mei Terumi, Katsuyu and Koharu Utatane from the Naruto series, Cornelia li Britannia from Code Geass and the most recent role of Queen Metalia on Sailor Moon Crystal. She also does voice acting in video games such as Maria and Mary Shepherd-Sunderland in the HD collection version of Silent Hill 2 and Nina Williams from the Tekken series. She also works in cartoons as she currently voicing Dr. Maheswaran in Steven Universe and voice directs Penn Zero: Part-Time Hero. McGlynn also contributed to the Silent Hill movie adaptation and Dance Dance Revolution EXTREME. She has also had several movie roles. In 2015, she was also a guest star for a Dungeons and Dragons web series titled 'Critical Role' (Episodes 18-20).
Community content is available under
CC-BY-SA
unless otherwise noted.