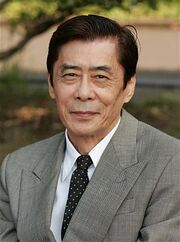 Nachi Nozawa (野沢 那智, Nozawa Nachi?) was a Japanese voice actor, actor, and theatre director born on January 13, 1938 in Tokyo. He was affiliated with Office PAC at the time of his death. His real name was Yasutomo Nozawa (野沢 那智, Nozawa Yasutomo?).
On October 30, 2010, at 3:36 P.M., Nozawa died at a Tokyo hospital of lung cancer. He was 72 years old at the time of his death. A year after his death, he was honored with a Special Merit Award in the 5th Seiyu Awards.
Role in the Devil May Cry seriesEdit
Nozawa is the one who voiced the Japanese version of Sid in Devil May Cry: The Animated Series.
Other Roles
Edit
Nozawa was best known for dubbing over Bruce Willis and Alain Delon, as well as his roles in Cobra (as Cobra), Dororo (as Hyakkimaru), Goku no Daiboken (as Sanzo), and the Sakura Wars series (as Oni-Ou).
Community content is available under
CC-BY-SA
unless otherwise noted.