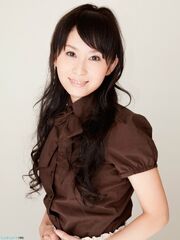 Natsuko Kuwatani (桑谷 夏子, Kuwatani Natsuko?), born August 8, 1978 in Ōme, Tokyo, is a Japanese voice actress who works for I'm Enterprise as of March 1, 2008.
Role in the Devil May Cry seriesEdit
Kuwatani is the one who voiced the Japanese version of Angelina Hagel in Devil May Cry: The Animated Series.
Other Roles
Edit
Her major roles are in anime shows and they include Yue Ayase in Negima, Fiore in Chrono Crusade, Alph in Nanoha, Michiru in Magikano, Suiseiseki in Rozen Maiden, Yae Shinatsuhiko in Yozakura Quartet and Sae Kawano in Yurumates. In video games she voices Kasuga in Sengoku Basara.
Community content is available under
CC-BY-SA
unless otherwise noted.