"
The story goes that Sparda served as the feudal lord at the city long ago. The people who live there today take these legends as truth and worship him. Just like a god.
"
The Order of the Sword (魔剣教団, Maken Kyōdan?) is a religious organization that believes that long ago, Sparda served as the feudal lord in Fortuna and[1] worship him with the objective to eradicate all demons in his name.[2]
Base of Operations
Edit
The main headquarters of the Order is an immense fortress on the eastern side of the island, built above the ocean itself.
Technology
Edit
The Order has an extensive research division, which not only develops anti-demon weapons, like Durandal and Caliburn swords, but also explores magical field. They use this knowledge to create their own artificial demons, among many other uses.[3]
As can be expected from the name, the Order's weapon of choice is a sword. The ones the the Holy Knights presently use were designed by Agnus, the Order's Chief Alchemist. These anti-demon weapons feature a combustion engine, which, when revved, allow for powerful sword strikes. There are two variations of this design:
Caliburn - Standard weapons of the Order's Knights. They feature a slimmer blade than the officer's Durandal.
Artificial demons
Edit
Demons created by the Order to support their ranks.
Other technology
Edit
Before Devil May Cry 4Edit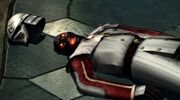 The Order has been collecting Devil Arms for some time before the game, in order to create minor Hell Gates across the island. In turn, the Gates were needed to summon demons and thus provide the Order with the material to build their own artificial demons (the Angelos and other lesser demons), power the Ascension Ceremony, as well as complete The Savior.[5][4]
The Order was headed by Sanctus, the holy priest of the Order and Vicar of Sparda[6] who is killed by Dante at the beginning of the game. He was later resurrected through the Ascension Ceremony. After his death at the hands of Nero however, the Order of the Sword became an autonomous group with no real leader. The Knights of the Order were previously lead by the previous Supreme Commander, Credo.[7] Knights all wear uniform clothes and swords, designed by Agnus, the Order's former Chief Alchemist.[8]
| | | |
| --- | --- | --- |
| Name | Rank | Status |
| Sanctus | Ruler of the Order; Vicar of Sparda[6] | Deceased |
| Agnus | Chief Alchemist[8] | Deceased |
| Credo | Supreme General of the Holy Knights[7] | Deceased |
| Josh | Holy Knight | Deceased |
| Nero | Holy Knight | Defected |
| Gloria (ruse) | Holy Knight Executive | Defected |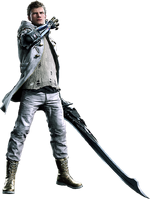 In Devil May Cry 4 Special Edition, director Hideaki Itsuno originally planned to add a Nero costume based on the Order of the Sword in place of the "Prototype" costume present in the final game. This idea was then used for Nero's EX Costume in Devil May Cry 5. The logo of the Order can even be seen on one of Nero's shoulders.[9][10]
References
Edit
Community content is available under
CC-BY-SA
unless otherwise noted.