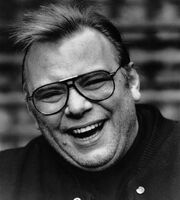 Richard Ridings (born 19 September 1958) is a British actor, and is best known for his portrayal of Alan Ashburn in the ITV television drama Fat Friends, and for playing Bernard Green in the BBC1 comedy-drama Common as Muck. He trained as an actor at the Bristol Old Vic Theatre School. He is the father of singer-songwriter Freya Ridings.
Role in the Devil May Cry seriesEdit
Ridings is the voice actor for Hunter in DmC: Devil May Cry.
Other Roles
Edit
His well known voiceovers in video games, includes the voice of Sarge in Quake III, the Mentor in Dungeon Keeper and Dungeon Keeper 2, Mendechaus in War for the Overworld, Roach in Heavenly Sword, General Pig in Puppeteer, and ex-lawman Giles the Farmer in Fable II, on the Xbox 360 video game console. In 2010 he also provided the voice of Pigsy, in the video game Enslaved: Odyssey to the West and of Cornell (the Dark Lord of the Lycanthropes) in Castlevania: Lords of Shadow. In 2011 he provided the voice of the leader of the Machina refugees, Miqol, in Xenoblade Chronicles and the Daemon Lord in Castlevania: Lords of Shadow - Mirror of Fate, and the Green Man in Tearaway.
Community content is available under
CC-BY-SA
unless otherwise noted.