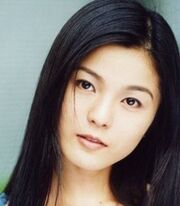 Ryōka Yuzuki (柚木 涼香, Yuzuki Ryōka?), born January 10, 1974 in Anjō, Aichi, is a Japanese actress and voice actress.
Role in the Devil May Cry seriesEdit
Yuzuki is the Japanese voice of Lynn Marcus in Devil May Cry: The Animated Series.
She used to do a lot of live action work when she was a teen under the name Ayumi Nagashii (永椎 あゆみ, Nagashii Ayumi?). Kanori Kadomatsu (角松 かのり, Kadomatsu Kanori?), appearing in men's magazines and V-Cinema. Trying to break out of the horror/exploitation genre and back into legitimate cinema, she briefly changed her name back to Ayumi Nagashii and began working on the occasional anime as a voice actress. On November 1, 1998 she changed her name to Ryōka Yuzuki and currently focuses mainly on voice work.
Community content is available under
CC-BY-SA
unless otherwise noted.