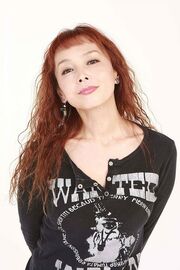 Hisako Takayama (高山 ひさ子, Takayama Hisako?), known by her stage name Urara Takano (高乃 麗, Takano Urara?) is a Japanese voice actress born on August 16, 1961 from Tōgane, Chiba. Takano runs the talent agency Re-max, although she was originally affiliated with Ken Production.
Role in the Devil May Cry seriesEdit
Urara Takano is the one who voiced Echidna in the Japanese version of Devil May Cry 4: Special Edition.
Other Roles
Edit
Her most prominent role has been in the Sakura Wars video game franchise, where she voices Maria Tachibana. Other major roles include Ryo Takaba in Bakuso Kyodai Let's and Go!!, Marller in Ah My Goddess, Tiger in Saber Marionette J, Musashi Kazama in Grander Musashi, Kai Hiwatari in Beyblade, and Veffidas Feaze in Macross 7.
Community content is available under
CC-BY-SA
unless otherwise noted.