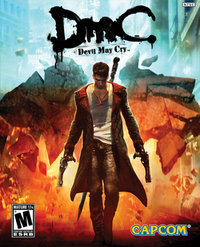 Devil May Cry fans looking to play the latest game,
DmC: Devil May Cry
, on the PC instead of the consoles might enjoy this news. Unlike most games, you actually will not have to wait that long between releases!
Capcom announced today that DmC: Devil May Cry will launch on the PC on January 25th of next year, just ten days after the normal release. For suggested minimum requirements, check out the details below!
The recommended and minimum specs for DmC Devil May Cry on PC are as follows:
Minimum System Requirements:
OS: Windows Vista®/XP, Windows 7, Windows 8
Processor: AMD Athlon™ X2 2.8 GHz or better, Intel® Core™2 Duo 2.4 Ghz or better
Memory: 2 GB RAM
Hard Disk Space: 8 GB free hard drive space
Video Card: ATI Radeon™ HD 3850 or better, NVIDIA® GeForce® 8800GTS or better
DirectX®: 9.0c or greater
Sound: Standard audio device
Recommended System Requirements:
OS: Windows Vista®/XP, Windows 7, Windows 8
Processor: AMD Phenom™ II X4 3 GHz or better, Intel® Core™2 Quad 2.7 Ghz or better
Memory: 4 GB RAM
Hard Disk Space: 9 GB free hard drive space
Video Card: AMD Radeon™ HD 6950 or better
DirectX®: 9.0c or greater
Sound: Standard audio device