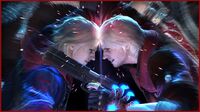 A lot of fans didn't like the first trailer which came out last year. Ninja Theory's E3 trailer was already a step in the right direction, but still wasn't enough to convince the fans.
And now they've released the third trailer featuring scythes, blood and amazing combat! If you weren't excited for this game yet, just watch this trailer and have your mind blown away!
What do you think? Does this trailer make up for last year's trailer? Leave your opinion in the comments!
---
Source: Kotaku