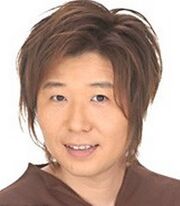 Yūji Ueda (うえだ ゆうじ, 上田 祐司, Ueda Yūji?), is a Japanese voice actor born on June 15.
Role in the Devil May Cry seriesEdit
Ueda is the Japanese voice of Kerry Marcus in Devil May Cry: The Animated Series.
Other Roles
Edit
He is best known for voicing the roles of Sagara Sanosuke in Rurouni Kenshin, Akito Tenkawa in Martian Successor Nadesico, Brock in Pokémon, Horohoro in Shaman King, Johannes Krauser II in Detroit Metal City, Keitarō Urashima in Love Hina, Shirō Iori in Kill la Kill, and Yousuke Fumma in Wedding Peach.
Community content is available under
CC-BY-SA
unless otherwise noted.